This is my personal recipe for Finnish cinnamon rolls. It has been refined over many years. If you do not like it, it is probably because you are a different person from myself. This recipe calls for a lot of butter, because the commercial offerings of these rolls are always just a bit too dry for me. If you are concerned about healthy eating, be advised that the age of demonising fat has ended (it is the sugar and the white flour that will kill you now).
The quantities given in this recipe will yield about 50 units and will occupy you for about 3 hours.
Ingredients
For the dough:
500ml milk

1 egg

180g sugar

7.5g cardamom

1 tablespoon salt (carefully)

50g yeast

1kg flour

200g butter

For the filling:
120g butter

300g sugar

36g cinnamon powder

2 eggs

Preparation
Stir cardamom, egg, sugar, salt, yeast into milk. Start adding flour. Heat butter in microwave until almost liquid. Add dough-butter and rest of flour, knead into dough ball that does not stick too much.
Cover dough and let it rest for at least 30 minutes at about 40 degrees Celsius. Its volume should increase noticably.
Take 1 quarter of the dough and roll it into a thin rectangle about the size of an A3 sheet. Heat the filling-butter until it spreads easily. Spread 1 quarter of it on the dough. Mix filling-sugar and cinnamon and sprinkle 1 quarter evenly on the dough.
Roll up the dough from the short side and cut the resulting roll into about 12 trapezoid wedges.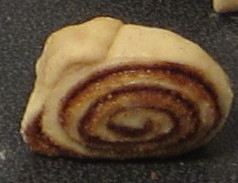 Put wedges on baking tray with baking paper with the long side down and push finger through center. Scramble the filling-eggs and coat wedges. Repeat until you run out of dough or baking trays.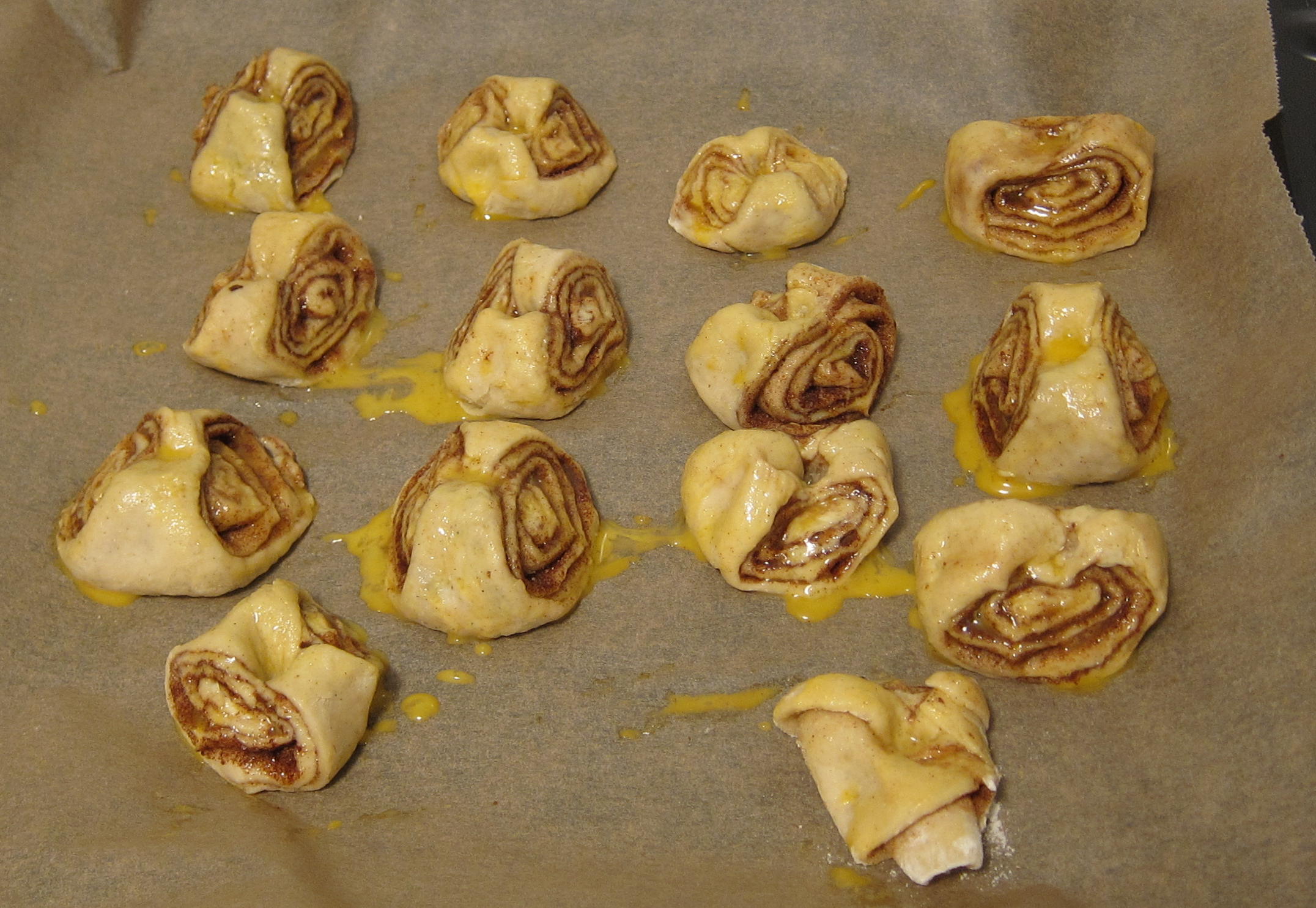 Baking
Preheat oven to 230 degrees Celsius using top + bottom heat.
Use a middle position for the tray and bake for 7-11 minutes. ERR ON THE SIDE OF CAUTION! The rolls are done when they are slightly brown. Check the underside for burning.
Serve warm or warmed up (a few seconds in the microwave).
Store cold.
Updated: picture of finished product: